Why Karoo Lamb?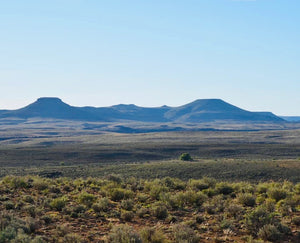 International Recognition
Karoo Lamb is South Africa's first geographical indication (GI) in the meat industry and has achieved the unique achievement to be recognised by the European Union as a true GI. Products with similar geographical and sensory features that are also recognised and protected are Rooibos tea, Darjeeling Tea and Parmigiano-Reggiano cheese to name a few.
 
Now what makes meat from Karoo sheep so unique and distinct in flavour?

The Karoo has a harsh climate, cold winters and hot summers with hardly any rainfall. The indigenous shrubs endure this harsh climate and grow year round, while grass only grows in rainy season. The Karoo sheep mainly feed on this indigenous flora, which is nutritious as well as palatable to the sheep. These shrubs have a very herby aroma, varying from rosemary, thyme, sage, eucalyptus and lavender. One can say that the sheep flavour their own meat while grazing. Even when walking around in the fields you can smell the herbs of the Karoo bushes and shrubs. It almost feels like walking around in a spice market and gives its distinctive taste to the Karoo meat.